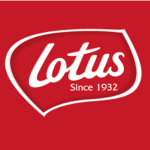 Website Lotus Bakeries
Lotus Bakeries began in the village of Lembeke in 1932 and is now active worldwide in the indulgent and natural snacking segment with the Lotus, Lotus Biscoff, Dinosaurus, Peijnenburg, Annas, Nākd, TREK, BEAR and Kiddylicious brands, among others. Lotus Bakeries, with headquarters in Belgium, is a dynamic, internationally oriented company with production facilities in Belgium, the Netherlands, France, Sweden, South Africa and the US, and twenty own sales organisations in Europe, America and Asia. Lotus Bakeries also works with commercial partners in approximately fifty countries worldwide. Lotus Bakeries has approximately 1,900 employees. By maintaining a healthy balance between tradition and innovation, the Lotus brand indulges consumers with a unique range of high-quality, tasty products. The secret of Lotus Biscoff lies in the biscuit's unique flavour, distinctive design and delightful crispiness. The unique caramelised biscuit flavour has meanwhile also been incorporated into a spread and ice cream. A wide range of cake specialties and waffles are furthermore offered under the Lotus brand name. Koninklijke Peijnenburg is the market leader for gingerbread in the Netherlands and Annas is a typical Swedish speciality of pepparkakor biscuits: thin, crunchy biscuits flavoured with ginger and cinnamon. Under the Nākd, TREK and BEAR brands, Lotus Bakeries offers tasty snacks, manufactured from all-natural, unprocessed ingredients, with no added sugar. Kiddylicious focuses on healthy snacking for babies, toddlers and pre-schoolers. In 2018 the Group achieved a turnover of EUR 556 million. The shares of Lotus Bakeries are listed on Euronext Brussels. The majority of the shares are owned by the Boone and Stevens family.
Our Legal department is growing and therefore on the lookout for a (M/F)
Legal Counsel
Legal expert acting as business partner to internal (international) stakeholders
Your role
Your main objective will be to take on the responsibility for all legal matters for a fixed number of Areas within the Group as well as the implementation and management of all compliance policies and procedures throughout the these Areas. In other words, you will be the business partner to the respective General Managers and the sales, marketing and finance functions throughout the Areas.
A special focus is reserved to building a Centre of Excellence in Consumer law.
As Legal Counsel of Lotus Bakeries, you will have a very dynamic, international role and a broad scope or involvement; here are a few examples.
Consumer law: Advice on consumer protection under national and European laws, including advertising, sales promotions, sales methods, labelling, product legislation, e-commerce, …
Contract negotiation: review of a wide variety of brand- and product-related contracts
Litigation management: Review progress of outstanding litigation and liaise with and manage external lawyers
Statutory and regulatory compliance: Cooperate with the Compliance office to implement compliance policies and procedures throughout your Areas of responsibility
Legal advice to the business entities of Lotus Bakeries in your area's in their day-to-day operations
Corporate Housekeeping
Who are you?
Based on a Master's degree in Legal Studies, you have built 3 to 5 years of experience, preferably with a start in a top international law firm, followed by a first experience in-house.
Experience with consumer law (in anFMCG environment) will be considered a big plus, as the Legal Counsel we are looking for will become the owner of the Centre of Excellence in Consumer Law.
Being fluent in both Dutch and English, you show your strong social skills through a team-oriented attitude, being both enthusiastic and reliable. You are analytic and pro-active in your business-approach, backed by excellent execution and treating deadlines with high priority. And last but definitely not least, you are someone well-organised, hands-on and detail-oriented.
Our offer:
Lotus Bakeries invests in people. You will join an International environment in close proximity to the management. The colleagues around you are team oriented, passionate about their expertise and open communicators.
You'll receive a competitive salary, in line with your experience.